Newsletter - April 4th
Season Launch
The Season Launch has come and gone for another year and what a terrific night it was. The evening began in the courtyard outside Wesley's Cato room, with Rodney speaking glowingly about the support received by our great sponsors. We cannot reiterate how important they are to our success as a club, especially with the continual support from Brett Jefferson at Jefferson Automotive, who has been with Collegians for longer than 25 years; an amazing effort. Warrick Mitchell was then presented with a Certificate of Appreciation, to celebrate his outstanding effort organising and overseeing the redevelopment of the downstairs changerooms.
The Senior coaches were interviewed by Nick Roach, who asked the hard-hitting questions. Both Shane Joyce and Mark Hibbins are optimistic for the season, with a lot of new faces offering plenty of buzz around the club. After dinner, the great Dr. Andrew Daff spoke. Measured and insightful, Daffy was captivating, recounting stories from when Graham Daff was around the club. He also offered his opinions on current AFL issues. In a surprise to Daffy, but to no one else in the room, he was awarded Life Membership of Collegians. Overwhelmed with emotion, there was a standing ovation with everyone celebrating his service to the club!
Also with special mention is Susie Roger Wilson who provided the auction item for the night, a money cant buy, 8 person dinner in her city apartment! Incredibly, the prize collected a top bid of $5,000!
All in all, a tremendous night. The great vibe in Cato Room has set the scene for another great season in 2019.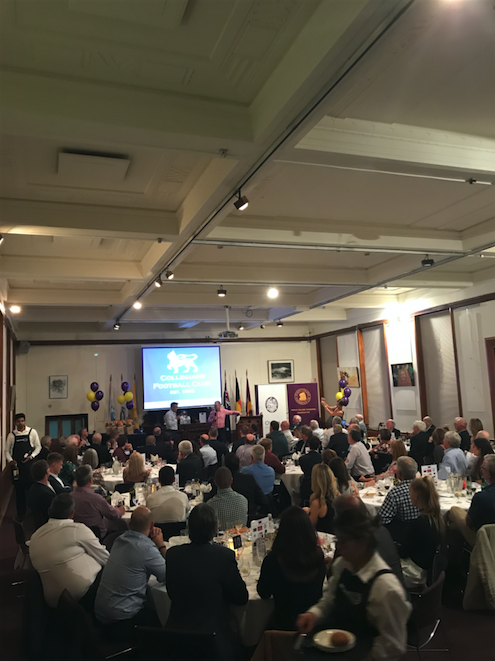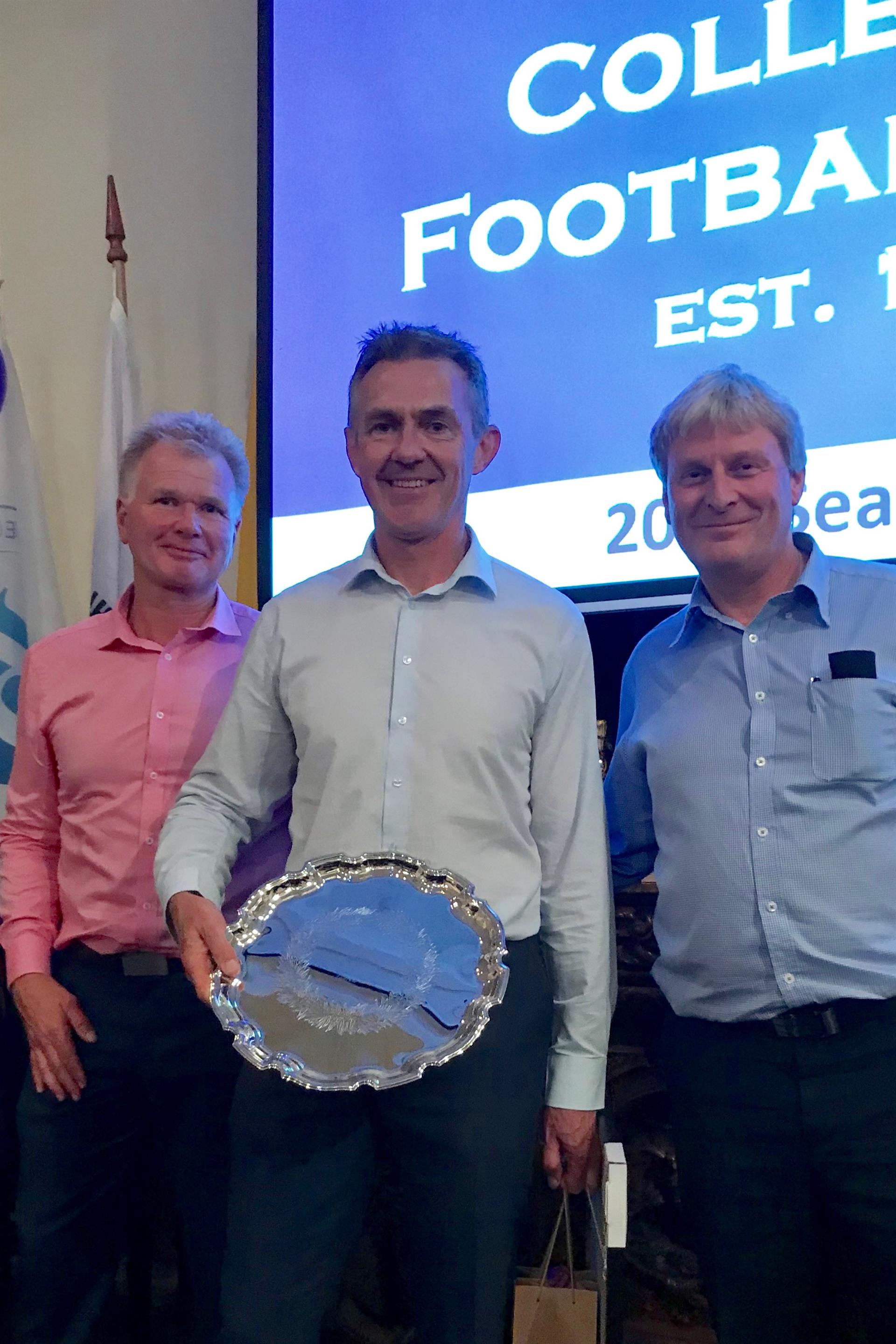 Sponsorship
Other exciting news from the Season Launch is that one of our favourite sons, Fergus Watts, is coming on board as a sponsor with Bastion Collective. We are really excited to have them and look forward to helping them help us!
For those who may not know, Bastion Collective are a marketing and communications agency based in Melbourne and Sydney with offices in Los Angeles and Shanghai too.
Fergus Watts - This email address is being protected from spambots. You need JavaScript enabled to view it.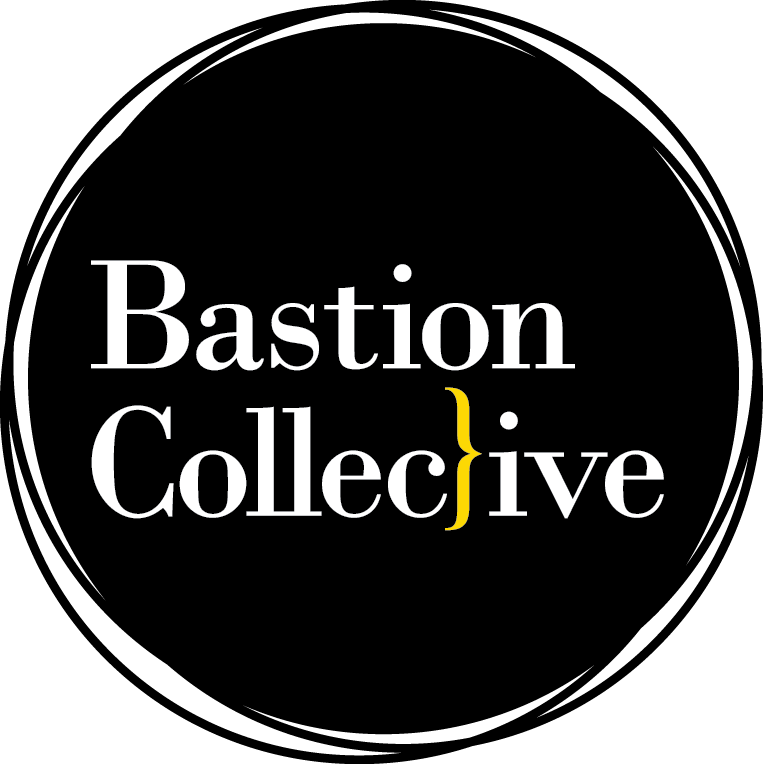 If there's anyone that you think would be interested in getting involved in sponsoring Collegians, call Michael Dockery on 0433 400 485.
Membership
Don't think, Do!
You may have seen a video I did recently pleading with the Collegians community to get on board in 2019 by purchasing a membership.
I feel compelled to follow up in order to help the committee achieve its off-field goals this year.
In the two years since I relinquished the Presidency the cost of running the club has risen by $100k , or around 30%. This is not the new regime throwing money around. It reflects the expenditure required to provide facilities, infrastructure and professional support to ensure we can compete successfully in Premier Division and create an environment players and supporters want to be part of. It also reflects the Club's outstanding commitment to its Women's Football Program.
We might be the oldest and most successful in the VAFA but every year our challenge off the field is as difficult as it is on. Like AFL clubs, the key to off field success is memberships, and frankly, in my opinion, we would win the wooden spoon on the membership ladder.
The Club has a target of 300 members this year. Double what it had in 2018. When you think about it, it seems a ridiculously small target but it's not. It will be very hard to achieve. When you think of all the people who have been through the club, even over my time, you would think we could achieve this goal in 5 minutes.
I implore you, Don't think, Do! Get involved right now by going to the website straight away and signing up; you will make a difference.
See you at the Trott.
Wayne Dyer
President 1999 – 2016
BBQ VOLUNTEERS NEEDED
With our first official home game at the Harry Trott next week, we need volunteers to help with the BBQ. With the help of our great partner, Peter Bouchier Butchers, we can provide terrific meat for all our supporters to enjoy on match day.
This is a great way to get involved, help the club and meet new people. If you would be interested in volunteering, whether it is 1 week, 2 or all 9 home games, please email Michael Dockery – This email address is being protected from spambots. You need JavaScript enabled to view it. with your preferred dates and he will provide a roster for the season.
Collegians Round 1
Most importantly, don't forget to get along to a game this weekend! Here's where to find us:
Saturday April 6th
Women's Seniorsvs. Old Camberwell
Wesley College, Front Turf - 2:30pm
Women's Developmentvs. Old Camberwell
Wesley College, Front Turf - 12:30pm

Men's Seniors@ SKOBS
T.H King Oval - 2:00PM
Mens's Development@ SKOBS
T.H King Oval - 11:40AM
Men's Thirds @ SKOBS
T.H King Oval - 9:20am
Men's Under 19svs. Old Haileybury
Wesley College, Front Turf - 10:30am
We are always looking for more thirds players to help bolster our numbers. If you are interested in a game, or know anyone, please let Michael Dockery 0433 400 485 know.